ATTENTION SMALL BUSINESS OWNERS:
Minimum Basic Operations to Reopen Georgia for Business - Effective April 24, 2020 by Executive Order of Gov. Brian Kemp
workers affected by the COVID-19 pandemic
The Metro Atlanta Chamber has established a job board. You can find jobs across industries on ChooseATL's COVID-19 open jobs web page which is designed for workers affected by the COVID-19 pandemic.
The Gwinnett Chamber has created a jobs board. Post a Job or view current openings here.
business recovery
Additional guidance and resource may be found at the GECC Web Site COVID Resource Page.
As you transition from closures and reduced staffing and operations to a higher level of service, we will do our best to share with you best practices and other information to support your business recovery efforts. The Safe Six Diagram below illustrates the areas you should be considering. Take a look at this checklist. You may find this article on recovery readiness of interest.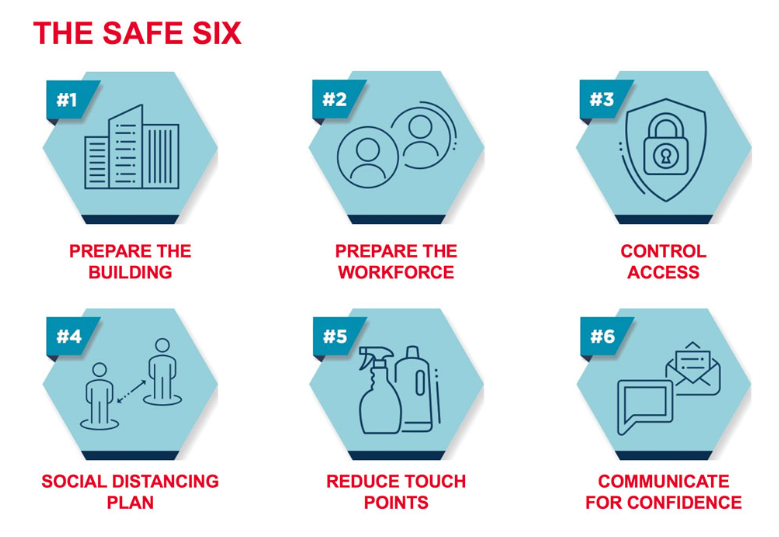 Helpful Links:
Guide to Conquering a Business Crisis
Gwinnett Business Listing - You may want to add your information to this Gwinnett business listing.
For businesses handling and/or serving food:
Food Safety and the Coronavirus
What customers think about restaurants and Coronavirus
Potential Funding Available for Small Businesses:
The Gwinnett Office of the UGA Small Business Development Center is a valuable resource for businesses who are struggling and may need help during this time. Visit www.georgiasbdc.org . You may be entitled to Small Business Association disaster relief funds. Click here for more information. The City of Snellville's Economic Development Office wants to hear from local business owners if they have suggestions, questions or concerns. 
The U.S. Small Business Administration is offering low-interest federal disaster loans for working capital to Georgia small businesses suffering substantial economic injury as a result of the Coronavirus (COVID-19). The disaster declaration makes SBA assistance available in the entire state of Georgia. Eligibility for Economic Injury Disaster Loans is based on the financial impact of the Coronavirus (COVID-19). Applicants may apply online, receive additional disaster assistance information and download applications at https://disasterloan.sba.gov/ela. Applicants may also call SBA's Customer Service Center at (800) 659-2955 or email disastercustomerservice@sba.gov for more information on SBA disaster assistance. Individuals who are deaf or hard-of-hearing may call (800) 877-8339. Completed applications should be mailed to U.S. Small Business Administration, Processing and Disbursement Center, 14925 Kingsport Road, Fort Worth, TX 76155. The deadline to apply for an Economic Injury Disaster Loan is Dec. 18, 2020.
To Apply for Disaster Assistance: https://www.sba.gov/funding-programs/disaster-assistance
Additional Resources:
Access to Capital for Entrepreneurs (ACE): https://aceloans.org/wbc/
Coronavirus SBA Loans and Business Assistance: https://www.score.org/coronavirus-sba-loans
Coronavirus Small Business Resource Hub: https://www.score.org/coronavirus-business-hub
UGA SBDC Home Page (currently the EIDL response page): https://www.georgiasbdc.org/
For more information on COVID-19 (the Coronavirus): www.cdc.gov/coronavirus