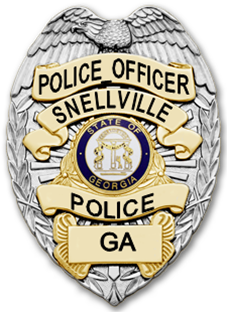 SNELLVILLE CITIZEN'S POLICE ACADEMY
34th Session
Spring 2023
City of Snellville Police
2315 Wisteria Drive
Snellville, GA 30078
The City of Snellville Police Department is offering this class in order to strengthen the bond of friendship and cooperation between our citizens and our police department. The class runs 9 weeks on Thursdays from 6p.m. - 8p.m. beginning on March 16th and ending May 11th. This will help our citizens gain a better understanding of the risks and responsibilities of our police officers. Some of the classes included in this training will be Domestic Violence, Traffic Stops, Building Searches, Driving Under the Influence and Firearms Safety. This program also includes a ride along with a Snellville Police Officer.
The program is open to all Snellville area residents, 18 years and older. The Academy is free and attendees do not have to live in the City limits. Click the Link below for an application or pick one up at the Police Department. A background investigation will be conducted on all applicants prior to acceptance in the Academy, but check with Sgt. Smith to see if you qualify.
For further information, contact Sgt. Smith at 770-985-3545 or ssmith@snellville.org.
Applications must be returned no later than March 3rd. Space is limited and your application must be filled out completely & must be NOTARIZED!!!!
FAQs:
Why would I want to participate?
The Academy helps attendees better understand what your police officers see and do each day and what they can and cannot do under the law. It helps you learn what to look for as a concerned citizen and how to interact with the police.
Who will be teaching?
The instructors for the CPA are Snellville Police Officers, each teaching a specific topic. Several of the instructors are Georgia Peace Officer Standards and Training Council certified police instructors.
What will we learn?
Some of the topics covered are: Domestic Violence, Motor Vehicle Traffic Enforcement, Police Traffic Stops, Alarm Call Response, Impaired Driver (DUI) Investigations, Firearms and Narcotics Identification.
Who can enroll?
Anyone who is 18 y/o or older can enroll. Space is limited as we would like at least 20 students to allow for greater participation.
How long will the class last?
There will be 10 stand-alone classes consisting of different topics Thursday night. Class will begin at 6:00 pm and end at 8:00 pm with lectures and a mixture of hands on classroom and scenario based training.