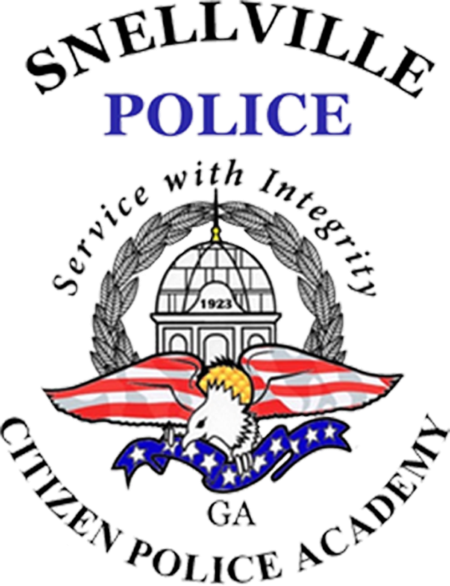 SNELLVILLE CITIZENS POLICE ACADEMY
The Snellville Citizens Police Academy, founded in the spring of 2003, is a twelve (12) week program held in the spring and fall each year. The Academy is designed to educate the public about the operation of the police department and how community involvement can help to deter crime.
Law enforcement tactics, restrictions and operations are presented in lecture form and members engage in practical and roleplay exercises with our officers. Topics include domestic violence, drug awareness, traffic stops, firearms training and crime scene processing. Participants tour the Gwinnett County Jail and go to the firearms range for weapons familiarization. The Academy culminates in a graduation ceremony with dinner provided.
This program is open to all Snellville area residents, 18 years and older. The Academy is free and attendees do not have to live in the city limits. Click the Link below for an application or pick one up at the police department. A background investigation will be conducted on all applicants prior to acceptance in the Academy, but check with Lt. Pendleton to see if you qualify.
For further information, contact Lt. Pendleton at 770-985-3573 or rpendleton@snellville.org.
We are accepting applications for the Spring 2020 session which will start on March 5, 2020.
FAQs:
Why would I want to participate?
The Academy helps attendees better understand what your police officers see and do each day and what they can and cannot do under the law. It helps you learn what to look for as a concerned citizen and how to interact with the police.
Who will be teaching?
The instructors for the CPA are Snellville Police Officers, each teaching a specific topic. Several of the instructors are Georgia Peace Officer Standards and Training Council certified police instructors.
What will we learn?
Some of the topics covered are: Domestic Violence, Motor Vehicle Traffic Enforcement, Police Traffic Stops, Alarm Call Response, Impaired Driver (DUI) Investigations, Firearms and Narcotics Identification.
Who can enroll?
Anyone who is 18 y/o or older can enroll. Space is limited as we would like at least 20 students to allow for greater participation.
How long will the class last?
There will be 12 stand-alone classes consisting of different topics Thursday night. Class will begin at 6:00 pm and end at 8:00 pm with lectures and a mixture of hands on classroom and scenario based training.