Overview
Signs provide an opportunity for businesses to advertise and be identified and are a useful tool to alert and guide customers. The City of Snellville Sign Ordinance allows for adequate and effective signage while encouraging standards that support pleasant and attractive residential and business neighborhoods. Also, the Snellville City Code regulates signage to ensure signs are constructed, installed and maintained so that public safety and traffic safety is maintained.
What Types of Signs Can I Use to Promote My Business?
Examples of the most commonly permitted signs include:
Arm Pole Banner signs
Awning signs
Canopy signs
Electronic Message Board signs
Entrance signs
Interior Project Directional signs
Menu Board and Pre-Menu Board signs
Monument & Freestanding signs
Temporary Banner signs
Temporary Feather Flag signs
Wall signs
Window & Door signs
Certain Signs are Prohibited
Please don't make the mistake of using the following prohibited signs to identify or advertise your business:
Animated or Flashing sign
Air or Gas Filled (Inflatable) sign
Beacon sign
Bench sign
Building Wrap or Mural
Mobile Sign
Roof sign
Swinging or Rotating sign
Spinsock or Windsock
Signs placed in the public right-of-way/along the roadway
Signs attached to retaining walls
Signs attached to any street sign or marker, traffic control sign or device, or attached to or painted on any pole, post, tree, rock, shrub, plant or other natural object or feature
LED lighting or neon lighting where the light source is visible from the public right-of-way
Attention Getting Device (any pennant, valance, propeller, spinner, ribbon, streamer, balloon, or search light) or similar device or ornamentation designed for or having the effect of attracting the attention potential customers or the general public.
Do I Need a Permit?
The City of Snellville regulates the permitting, design, location, construction, erection, modification, use, maintenance, and removal of signs within the City. A permit is required to verify that a sign does confirm with the sign ordinance. A sign may only be erected, placed, established, painted, created, or maintained in conformance with the requirements of the ordinances. A Building Permit may also be required for certain signs.
What Signs are Exempt from Permitting?
The following sign types are exempt from the permit requirements of the sign ordinance; however these signs shall meet sign area, height and setback requirements of the ordinance. See Section 207-6.5. of the Sign Ordinance for details on exempt signs.
• Signs within a business, office, mall or totally enclosed area.
• Signs not visible from public thoroughfares or intended to be seen by the traveling public.
• Portable signs
• Flags (as defined in Section 207-6.2.)
• Temporary signs (not including banners and feather flags which do require a permit)
• Swinging or projecting signs
• Signage on coin-operated beverage dispensers
• Official sign (one) as required by the State of Georgia for vehicle emissions stations
Can I use a Sign Spinner or Costumed Character to help Advertise and Identify my Business?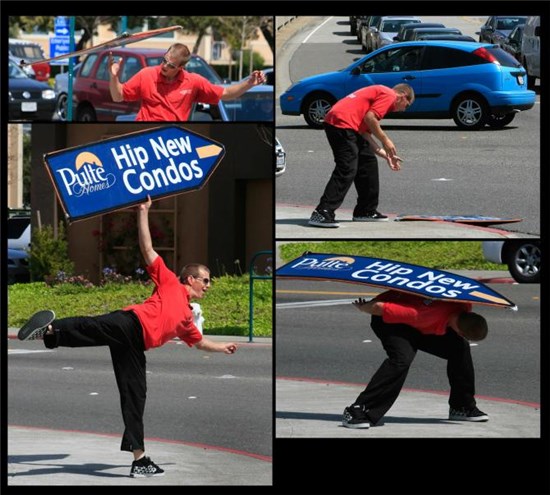 Businesses may utilize sign spinners, wavers, costumed characters or street performers with signage devices and do not require a permit.
However, these activities are prohibited within the public right-of-way, and include the roadway or street, public sidewalk and crosswalk, and area between the roadway and boundary line of private property.
Any persons involved in this activity must remain on the property of the business they are advertising on a hard surfaced paved area and away from entry and exit drives.
I Want to Utilize an Electronic Message Board Sign for my Business, What are the Requirements?
Electronic Message Board Signs, defined as "any sign that uses changing lights or colors to form a sign message or messages wherein the sequence of messages and the rate of change is electronically programmed and can be modified by electronic processes" are permitted as an element of a canopy, menu board, monument, free standing, or window/door sign. Please see Section 207-6.8. of the Sign Ordinance for additional information.