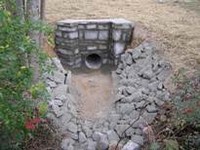 The Public Works Department is responsible for the operation and maintenance of the stormwater infrastructure within the city limits. We are striving to keep our city safe and efficient at all times. These areas include right of ways, ditches, detention ponds and easements which are all important in the stormwater management.
Stormwater Management Program
Management of stormwater runoff has become an increasingly important responsibility for local governments. Recently enacted stormwater regulations, combined with aging drainage infrastructure, has resulted in local governments like Snellville developing and implementing more comprehensive stormwater management programs to achieve regulatory compliance and address recurring drainage problems.
Upcoming & Completed Projects
Active Stormwater Projects '23 - '24
1824-1825 Chaparral Ct
2925-2916 Elizabeth Ln
2478 Ellis Ct
2509-2488 Ellis Ct
3433 Kenilworth Ct
3100-3145 Pondridge Trl
2777-2776 Ravenwood Dr
2836 Ravenwood Dr
2886 Ravenwood Dr
2243-2944 Shayne Pl
2849 Mountain View Rd
Completed Stormwater Projects '22 - '23
Highriggs Lane (Emergency Project)
Flintrock (Emergency Project)
Mountain View Road
1830-1840 Meadowchase Court
2963 Williams Place
3060-3065 Oak Meadow Drive
2747 Oak Meadow Lane
3155 Pond Ridge Trail
2221 Westridge Drive
2281 Westridge Drive
Completed Stormwater Projects '21 - '22
1784-1805 Skyland Glen Drive
3271-3260 Grand Central Drive
2615-2624 Shaywen Circle
2915 Fallow Ridge Court
2951 Brooks Drive
2018 Harbour Oaks Drive - 2423 Shipshire Place
2078 Eastwood Drive
2851 Overwood Lane
2893 Brooks Road
2338-2339 Radbury Lane
2368-2379 Radbury Lane