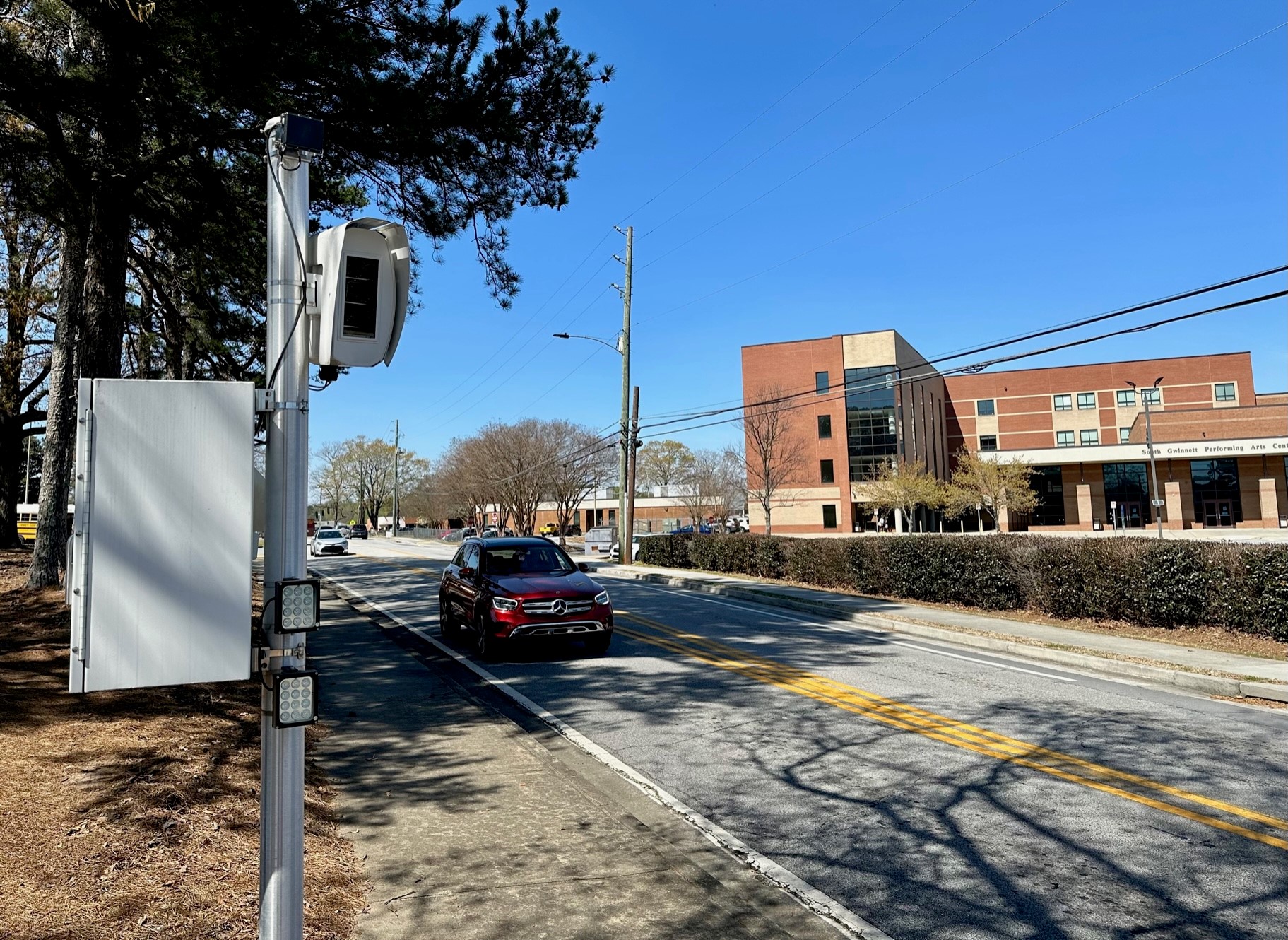 At the April 27, 2020 City Council Meeting, the Mayor and Council adopted a resolution authorizing speed-monitoring cameras erected in the school zones at South Gwinnett High School, Snellville Middle School and Britt Elementary School. Mayor and Council adopted the resolution after a study and survey into the speeds and accidents in the respective school zones.
Snellville followed the lead of the other cities in Gwinnett County, which studied the need for public safety improvements to keep children attending schools safe. Based on accidents, injuries and the ability to avoid injuries, Mayor and Council approved this initiative. It is an additional protective measure similar to the cameras installed on school buses to stem the danger created by passing stopped buses in an effort to keep students safe. After an introductory warning period beginning Jan. 6, 2021, the city began issuing civil citations on Feb. 7, 2021.
The State Legislature passed "House Bill 978 and codified as OCGA 40- 14-18 allowing for enforcement of speed limits in school zones by recorded images." Enforcement is authorized for speeding 11 mph over the posted speed limit beginning one hour before classes starts and ending one hour after each school lets out. GADOT and Gwinnett County Schools studied our application prior to permit approval for camera installation. Warning signs indicating Photo Speed Enforcement is implemented and placed as required and authorized by GADOT before entering each school zone.
Yellow flashing lights are not required for enforcement. These lights indicate a reduced speed when flashing on Skyland Drive and on Pate Road.  When the lights are not flashing, the speed limit on Skyland Drive and Pate Road reverts to its normal speed of 30 mph. The speed limit on US 78 is 35 mph regardless if the lights are flashing.  US 78 has a speed limit of 35 mph 24 hours a day, 7 days per week. Citations are only issued according to the hours and attendance requirements authorized by law, and also requires a vehicle to be traveling more than 10 mph over the speed limit.
The civil fine for a first offense on the speed camera is $80 and no points are assessed. The speed camera citations are only issued on days when students are physically present. Citations are not issued on digital learning days, holidays, teacher planning days and other absences.
The city issued press releases and social media posts prior to the installation of these systems. Again, no fines are assessed for vehicles traveling I0 mph or less over the posted speed limit. Please keep the safety of our young people in mind as you traverse school zones.
School Zone

Photo Enforcement

Posted Speed

Trigger Speed

 

 

Snellville Middle School

Pate Road

 

 

8:20 am – 5:00 pm

Non-Flashing: 8:20 am – 8:35 am

Flashing: 8:35 am – 9:35 am

Non-Flashing: 9:35 am – 3:45 pm

Flashing: 3:45 pm – 4:45 pm

Non-Flashing: 4:45 pm – 5:00 pm

5:00 pm – End Photo Enforcement

 

30 mph

25 mph

30 mph

25 mph

30 mph

 

41 mph

36 mph

41 mph

36 mph

41 mph

South Gwinnett High School

GA 10 / Hwy 78 / E. Main Street

6:10 am – 3:10 pm

3:10 pm – End Photo Enforcement

35 mph

46 mph

 

 

 

South Gwinnett High School

Skyland Drive

6:10 am – 2:55 pm

Non-Flashing: 6:10 am – 6:25 am

Flashing: 6:25 am – 7:25 am

Non Flashing: 7:25 am – 1:55 pm

Flashing: 1:55 pm – 2:55 pm

Non Flashing: 2:55 pm – 3:05 pm

3:10 pm – End Photo Enforcement for SGHS

 

30 mph

25 mph

30 mph

25 mph

30 mph

 

41 mph

36 mph

41 mph

36 mph

41 mph

 

 

Britt Elementary School

Skyland Drive

8:05 am – 4:20 pm

Flashing: 8:05 am – 9:05 am

Flashing: 3:05 pm – 4:05 pm

Non Flashing: 4:05 pm – 4:20 pm

4:20 pm – End Photo Enforcement for Britt Elementary

 

25 mph

25 mph

30 mph

 

36 mph

36 mph

41 mph
Note: South Gwinnett High School and Britt Elementary School both have photo enforcement on Skyland Drive explaining the time overlap for flashing and non-flashing photo enforcement.
Note: Photo enforcement is Monday through Friday on school days, not on weekends, holidays or non-in person school days. Photo enforcement does not apply during summer break, unless summer school is in session.
1. Why were the Speed Zone Cameras installed?
The City of Snellville and the Snellville Police Department began implementing an automated speed enforcement program in January of 2021. The purpose of the program was to reduce the number of speeding vehicles traveling through school zones, thus reducing the likelihood of crashes or injuries, especially those involving children.
2. How do the Cameras work? Are they accurate?
The automated speed enforcement technology is 100% accurate in determining exactly which vehicle it is capturing. The stationary cameras use a radar device aimed at a single lane. Vehicles drive through the beam as they travel on the roadway. This guarantees the vehicle speed recorded matches the proper vehicle. 
3. Where are the cameras located?
Automated speed enforcement in Gwinnett County is only in school zones. School zones are clearly marked with signage that the school zones are monitored, and speed limits are enforced by automated speed enforcement technology.   Drivers should assume that automated speed enforcement technology monitors all school zones. The City of Snellville currently has cameras in three different school zones:
South Gwinnett High School on Hwy 78 and Skyland Drive
Britt Elementary School on Skyland Drive
Snellville Middle School on Pate Road
5. Will photo enforcement take place during summer school?
Yes, photo enforcement will take place at all times students are in session.
6. Will I be ticketed for traveling 1 or 2 miles per hour over the posted limits?
No. According to state law, automated citations issued in school zones are only issued to drivers exceeding the speed limit by more than 10 miles per hour over the speed limit. The RedSpeed Georgia LLC system will only generate violations when a vehicle has been captured exceeding the current speed limit by 11mph or higher.
First violations are a total of $80.00 and a second or any subsequent violations are $130. Payments are due by the date listed on the citation. Per Georgia Law, additional fees shall not exceed $25, however, the City of Snellville only charges $5 in fees.  
The owner of a motor vehicle shall be liable for a civil monetary penalty to the governing body of the law enforcement agency provided for in paragraph (2) of this subsection if such vehicle is found, as evidenced by photographically recorded images, to have been operated in disregard or disobedience of the speed limit within any school zone and such disregard or disobedience was not otherwise authorized by law. The amount of such civil monetary penalty shall be $75 for a first violation and $125 for a second or any subsequent violation, in addition to fees associated with the electronic processing of such civil monetary penalty which shall not exceed $25.
H.B. 40-14-18 Section 9.
8. I received a School Zone Speeding Citation. How do I pay for it?
Please note citation payments are not handled by the City of Snellville.  Citations can be paid online, mailed, or by phone. 
Online
The easiest and most convenient payment method is via the online payment portal. To pay for your Snellville citation online, please visit:  https://secure.speedviolation.com
Mail
You may also mail a check or money order to the address printed on the citation and pre-printed return envelope. 
Phone
Payment by phone: Call 833-913-6673. Please patiently and thoroughly listen to the prompts.
9. If I get a ticket, will my insurance go up?
No. Citations are civil offenses, not criminal.  No points are assessed on your driving record for automated enforcement violations.   
10. What happens to citation revenue and how will it be used?
The revenue is shared between the City of Snellville and RedSpeed Georgia LLC, the company that installs and maintains the cameras. RedSpeed Georgia LLC receives 35 percent of the citation and the City of Snellville receives 65%. The city had no out-of-pocket cost to install the cameras and RedSpeed Georgia LLC will maintain the cameras.
According to state law, paid citation revenue must be utilized for law enforcement activities and public safety initiatives  Funds directed to the City of Snellville from the School Zone Speed Camera Program will be used for local law enforcement and/or public safety initiatives in compliance with state law.
12.  What do I do if I believe the citation was issued in error?
You may contact the Snellville Police Department, provide them with your violation notice, and they can answer any concerns that you may have. 
13.  How do I contest my citation?
Request a hearing by calling the City of Snellville School Safety Program Customer Service line operated by RedSpeed Georgia LLC at 833-913-6673.  It will be a good idea to have your violation number available when you call.