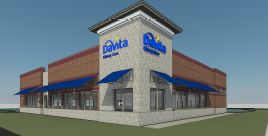 What once was home to the celebrated and centuries-old Snellville Oak, will now house a DaVita Dialysis Center.
Mayor and Council approved a special use permit and a request for variances for the one-story, 8,200-square-foot-building on a .768-acrea site at 2135 E. Main St.
DaVita is currently located in behind the new site in the Snellville Oaks Shopping Center. However, the shopping center has been earmarked for redevelopment and DaVita had the chance to choose its site.

The Snellville Oak – which became a symbol of the city – was removed in recent years after the Georgia Department of Transportation determined the tree was rotted and would collapse unless it was removed.