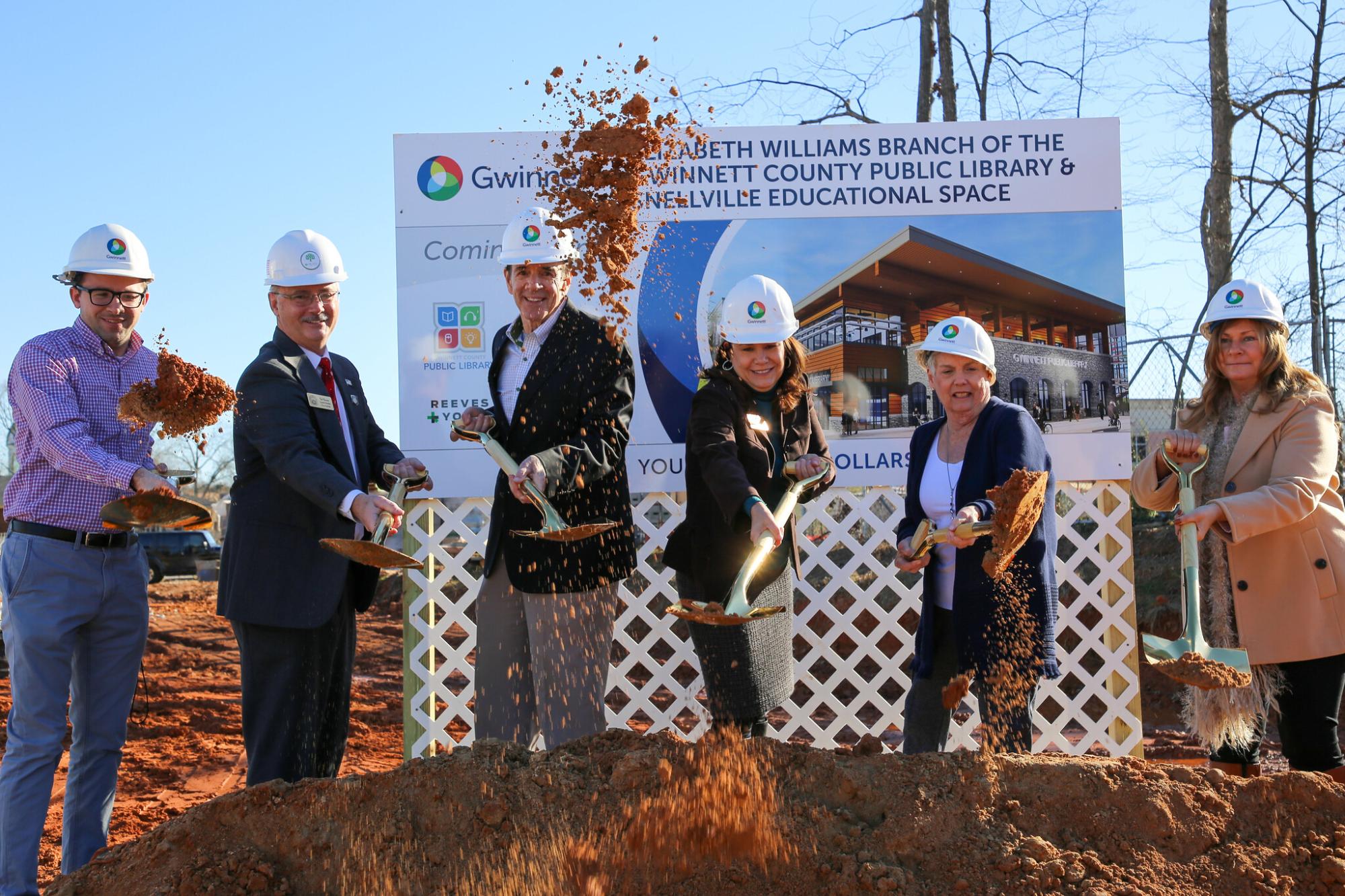 Gwinnett County leaders joined officials from the city of Snellville and the Gwinnett County Public Library to break ground on a new library and educational space in downtown Snellville.
Once complete, the new Elizabeth Williams Branch of the Gwinnett County Public Library will replace the existing branch on Lenora Church Road.
The two-story building will house the library on the first floor while the second floor will be operated by the city for educational uses.
Gwinnett County and the city of Snellville are jointly funding the $10.2 million project using 2017 SPLOST program dollars.
Board of Commissioners Chairwoman Nicole Hendrickson acknowledged the importance of SPLOST funding in allowing the County to keep up with the demands of our growing population.
"This building will serve as a hub for knowledge, culture, literacy and business, all in the heart of the city of Snellville," said Hendrickson. "Because of SPLOST, we're able to reinvest in our community and provide high-quality facilities that will become centers for learning and innovation in the future."
District 3 Commissioner Jasper Watkins celebrated the collaboration with the city of Snellville that made the facility possible. 
"This new facility is a great example of what can be achieved when local governments collaborate for the benefit of our residents," said Watkins. "Downtown Snellville is undergoing transformative growth, and the new library will fit right in with a convenient location and state-of-the-art space that will entice patrons to experience the library's world-class resources."
Snellville Mayor Barbara Bender expressed her excitement about the facility's contributions to Snellville's Towne Center.
"I would like to express our heartfelt thank you to the Library Board of Trustees and our Gwinnett County Commissioners for their willingness to relocate the Snellville library branch to be an integral part of the activity here in the Towne Center," said Bender. "This library and business center will give people of all ages a reason to come to The Grove and participate in civic life together and add to the history of our community in a modern way."
Gwinnett County Public Library Board of Trustees Secretary JT Wu also shared his excitement about sharing the new library's resources with residents.
"Designed as a best-in-class innovative hub with the latest in resources and creative technologies, this new branch symbolizes the best that Gwinnett County has to offer — an inclusive and top-tier educational resource that caters to the unique needs of our growing and diverse population," said Wu. "All of us here at the library are thankful to be partnering with so many forward-looking leaders at the County, the city of Snellville, the Library Foundation and more who recognize that investing in education, doubling down on progress and fully supporting our staff and our cities is the pathway to building an even greater Gwinnett."