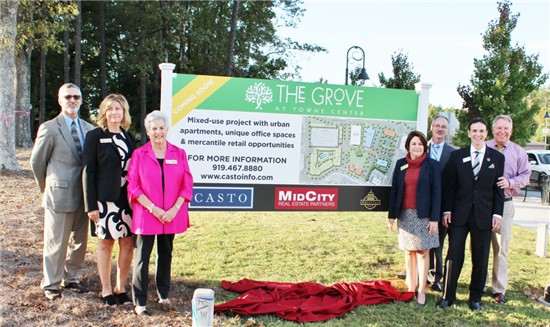 SNELLVILLE – A logo has been chosen to represent The Grove at Towne Center – a highly anticipated mixed-use town center coming the city.
Residents got a first look during a special reveal before the city council meeting Monday on the corner of Clower Street and Wisteria Drive.
"We're thrilled to have a visual representation of a project that we've been working to create for so long," said Mayor Barbara Bender. "Showing the logo to our residents brought such joy, and we're proud to have a design that represents a few of the wonderful aspects of Snellville's past and present, while also representing where we hope to go in the future."

The custom design features an oak tree with two intertwining trunks to represent the town's rich history coming together with the present. The leaves are said to represent the individual residents of Snellville who are at the center of the project. Additionally, the color green was chosen to symbolize the planned greenway and green space the area will offer. Finally, "The Grove" is a nod to the city's history, as this was the name of the location where founding community members came together for events and celebrations in Snellville's early days.
The $85-million project is being developed by CASTO, one of the country's leading commercial real estate companies, together with Atlanta- based development partner MidCity Real Estate Partners.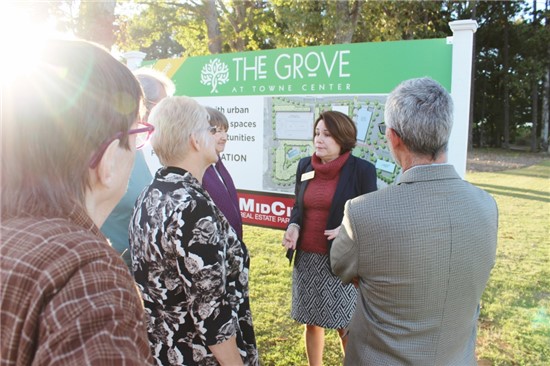 "We are pleased to provide a logo that the City of Snellville is proud to associate with The Grove," said Shannon Dixon, EVP of Southeast Development for CASTO. "We believe this design incorporates the most important aspects that the City wishes to convey – community, a nod to the past, and excitement for what's to come."
The Grove at Towne Center will be a walkable, destination space that will feature inviting restaurants, entertainment and retail spaces that will serve as key amenities for office users, residents and visitors. Shared use paths for pedestrians and cyclists will be located throughout the development, connecting the various components of the master planned project and the surrounding neighborhoods via the Snellville Greenway.
The first phase of construction of The Grove at Towne Center project will include relocation of the city's U.S. Post Office, expected to occur in early 2020 with a groundbreaking on the project anticipated for the second quarter of 2020.
For more information and updates on the Grove at Towne Center project visit www.snellville.org/the-towne-center-snellville.