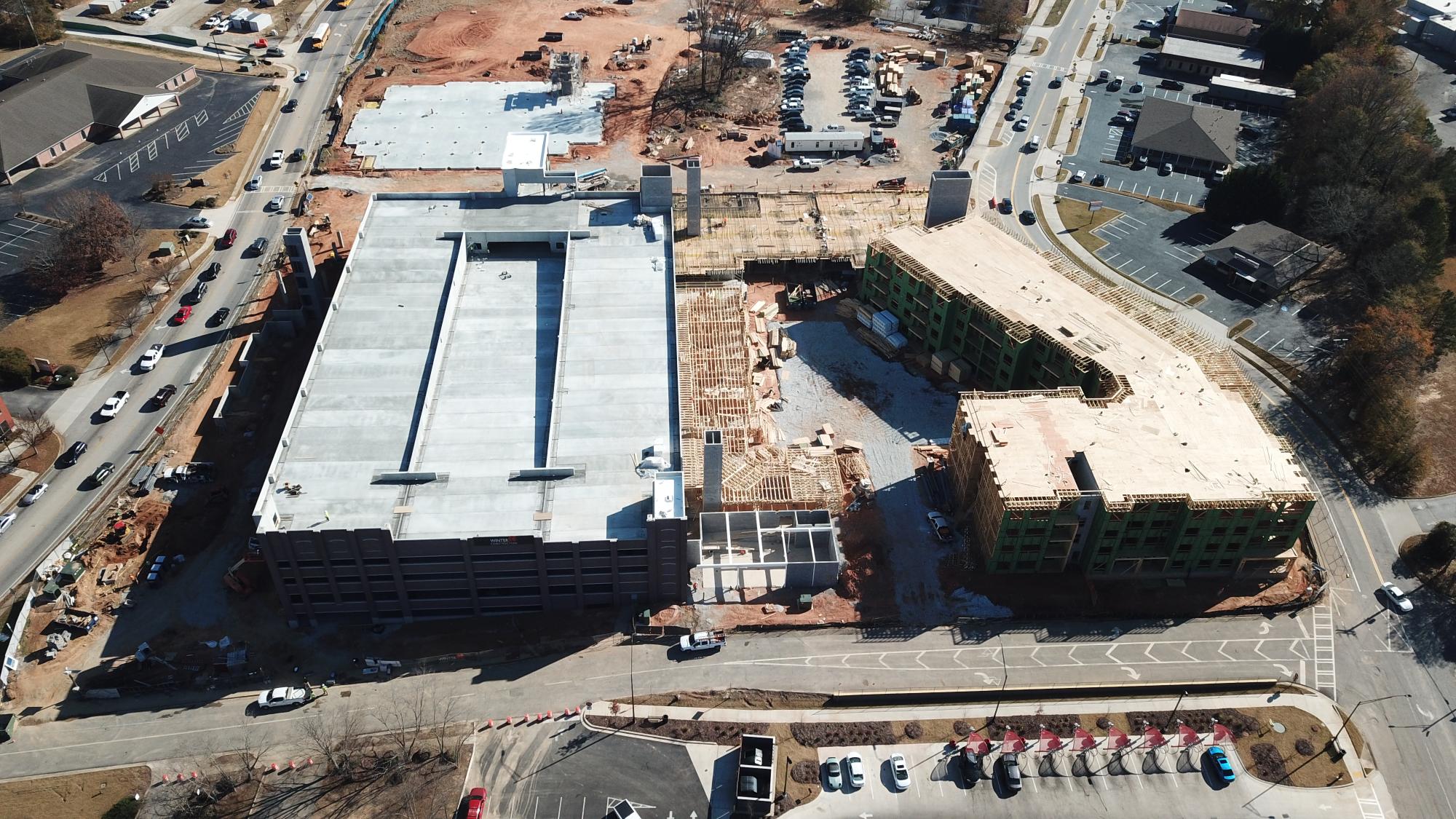 Snellville, G.A. — City of Snellville and Gwinnett County officials, as well as members of Winter Construction, along with The Grove co-developers CASTO and MidCity, gathered on December 2, 2021 for a topping out ceremony for The Grove at Towne Center's parking garage. Vertical construction is now complete on the five-level parking deck which houses 750 parking spaces to be used Grove for all of the site's offerings including over 50,000 square feet of retail, restaurant, office and entertainment space, as well as approximately 250 multi-family luxury apartments and the two-story Elizabeth Williams library. The Grove's luxury residential apartments will surround the deck on three sides and feature an ornamental glass stair case on the east side that will provide beautiful views of the Elizabeth Williams library as well as the mercantile retail space and Grove Town Green.
"We are continually amazed at the transformation of Snellville's skyline as construction at The Grove at Towne Center continues," said Snellville Mayor Barbara Bender. "We are proud of the quality work construction crews have completed at the 750-space parking deck and are looking forward to seeing their work continue as The Grove nears its late 2022 opening date." 
The Grove at Towne Center is a large scale, mixed-use town center property, comprising 18 acres between Oak Road, Wisteria Drive, North Road and Clower Street, in downtown Snellville. The Grove at Towne Center's first phase is expected for completion in late 2022 and is envisioned to be a place, where community and commerce meet. 
For more information and updates on the Grove at Towne Center project visit www.snellville.org/the-towne-center-snellville. 
ABOUT CASTO
CASTO, a fully integrated real estate organization since 1926, is a recognized leader in the ownership, management, acquisition and development of multifamily residences, mix-use properties, commercial shopping centers and office buildings. CASTO's growing portfolio currently includes more than 26 million square feet of commercial property and more than 5,000 residential units located throughout the midwestern and southeastern United States. CASTO is headquartered in Columbus, Ohio, and serves a variety of clients from five offices in Florida, North Carolina, and Ohio. To learn more about CASTO, visit www.castoinfo.com.  
ABOUT MidCity Real Estate Partners
Founded in 2009, Atlanta based MidCity Real Estate Partners acquires, repositions, and develops office, retail, and mixed-use properties. MidCity is known in the Atlanta market for several corporate headquarters and master developer of Alpharetta City Center, a public-private town center and award winner of ULI's Excellence of Town Center Development, ULI's People's Choice of Public Realm and Atlanta Regional Commissions Development of Excellence. Through MidCity Realty Corporation, an affiliate real estate brokerage company, MidCity offers a full range of advisory services. MidCity is the successor company to The Griffin Company, a 35-year-old full service commercial real estate development and construction company headquartered in Atlanta, GA. To learn more about MidCity, visit www.midcitypartners.com.
ABOUT SNELLVILLE
Snellville's convenient Gwinnett County location, approximately 18 miles east of Atlanta and 45 miles west  of Athens, has allowed it to prosper as a hub of commerce and retail in Northeast Georgia. Snellville's roots extend to 19th century London when two friends traveled to America and later started Snellville's rich history of commerce with stores of their own.Snellville is home to the award-winning Snellville Farmers' Market, a world class Veterans Memorial and one of the most decorated police departments in the state. Snellville is known for its dedicated volunteers and its celebrated diversity.
Media Contact: Cheyenne O'Connell/Intrepid Marketing Group, 516-410-9503, cheyenne@intrepidmg.com