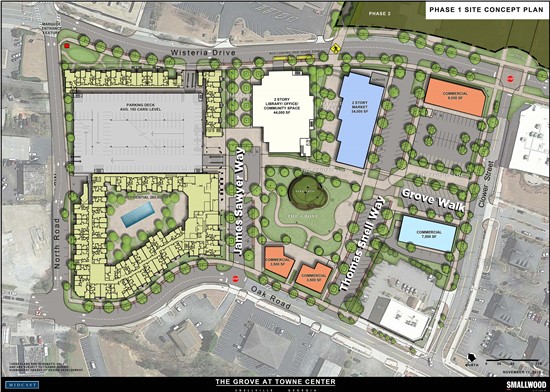 SNELLVILLE — The City of Snellville, along with co-developers CASTO and MidCity, are excited to announce that the street names have been approved for the City's highly anticipated city center development – The Grove at Towne Center.
It has been important to all involved with the planning process that the project include street names that honored Snellville's rich history. The Grove's $85 million first phase will commence construction in 2020 and begin to deliver in 2021.
"We're honored to consult with the Snellville Historical Society on this decision," said Mayor Barbara Bender. "Honoring Snellville's history and bridging the gap between our City's past and future is important to us. We want everyone to feel welcome and know that they have played a part in this exciting growth!"
Extending through the heart of the development, Grove Walk will connect Phase I of the project to City Hall. The name was given in honor of the historical meeting place that the entire center was named after and holds great meaning, especially to those with a close connection to the City's history.
The second and third streets, Thomas Snell Way and James Sawyer Way, are a nod to Snellville's co-founders. As young adults, these two men traveled from England to America and, eventually, established Snellville as a city in the late 1800s. Thomas Snell and James Sawyer are still remembered today for their hard work and dedication that put Snellville on the map. The City is pleased to honor its founders with the exciting growth that they laid the foundation for.
"It was important to us to work closely with the Snellville Historical Society and City Council to develop names that were meaningful to the City's history, but also fit the new development and would resonate with newcomers," said Shannon Dixon, EVP of Southeast Development for CASTO.
For more information and updates on the Grove at Towne Center project visit www.snellville.org/the-towne-center-snellville.